Txai Suruí: "When are we going to integrate the process that has been deciding our lives?"
07.06.2022 • News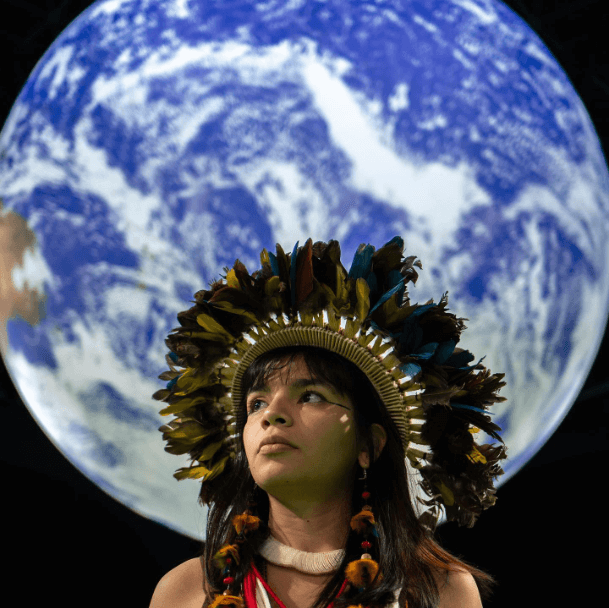 By Lays Ushirobira*
As the world races against time to implement solutions to protect the Amazon, many young people are already acting to chart new directions for the territory and for the future of the planet. Walelasoetxeige Suruí, better known as Txai Suruí, is one of the young women on the front lines for the Amazon. She gained global prominence last year for being the first indigenous woman to speak at the opening of a United Nations Climate Conference (COP 26), but her trajectory of work and socio-environmental engagement is extensive. 
Paiter Suruí people activist; coordinator of Kanindé, who has been working with indigenous people in Rondônia for 30 years; coordinator of the Rondônia Indigenous Youth Movement; Engajamundo volunteer; advisor to WWF Brazil. At the age of 25, Suruí is living proof that the youth is ready to take the lead in the present and change the narrative for a better future. 
In an interview with the team of Amazoniar, an initiative of IPAM (Amazon Environmental Research Institute) to promote a global dialogue about the Amazon, Suruí spoke of the importance of collective participation in discussions and decision-making, and the role of young people and the subsequent government officials to enforce people to respect the territory's socio-biodiversity. 
 What are you most proud of having done in/for the Amazon? 
 I think the most impressive thing I did for the Amazon was my speech at COP 26. In the Amazon, you cannot mention just one thing, because the work we do here is the work of our lives. We work in several fields, not only in defense and territorial monitoring or political activism for the Amazon, but also in production, with reforestation, and all these things are important for the Amazonian communities and for the territory in general. 
 Could you tell us about your story with the Amazon? What does it mean to you? 
 I am an indigenous woman of the Paiter Suruí people, who have lived in the Sete de Setembro indigenous land for at least 6,000 years, so we can have an idea of how long these people have been resisting up to this day. We, indigenous people, not only live here, but we are the rainforest as well, so my relationship with the Amazon is one of life and a lot of struggles, which I learned from my parents and brought along with my culture. I always say I actually live in three worlds. In the city, when my parents could not take us to the village or when I was studying and had to go to school. And the other two worlds are my own land, Sete de Setembro, where I grew up; and the Uru-Eu-Wau-Wau indigenous land. Kanindé was founded by my mother to work with these people. Nowadays, we also work with communities like Arara, Gavião and several others in the State but the organization was initially created to work with the Uru-Eu because my mother had a very close relationship with them. When these people were contacted for the first time, thirty years ago, my mother was there. They call her mom and I spent most of my childhood there. People often think of indigenous peoples as if they were just one thing, but each people has their culture, their teaching, and their wisdom, so I always talk about these three worlds, because they are different. My relationship with the Amazon is part of who I am as a person today. 
 What is your take on what is happening in the Amazon today? 
 These are really dark times. I say the colonizers came and never left. When they arrived, our lands were invaded, our lives were threatened, and we could not exercise our spirituality. And isn't that what is happening to this day? With the current government, it has gotten much worse because not only it is not held accountable but also encourages the invasion and destruction of our territories. Nowadays, Brazil is one of the most dangerous countries for human rights activists in the world. 
 When the pandemic began, a young indigenous man from the Uru-eu people was murdered, and, to this day, neither the police nor any other public authority has answers about it. We know it happened because Ari was a guardian of his territory and a very active person in his monitoring group. It causes a lot of suffering because in the culture of the Uru-eu-wau-wau people, when someone dies, we can no longer speak this person's name. But to this day his murder wasn't solved. When one cannot say a person's name but has to in order to report what is happening, the suffering only gets worse. 
 The Amazon is at the center of the world today because we see the consequences of the environment's destruction, not just in Brazil but all over the world. The Climate Observatory called me to comment on the latest IPCC report, which reinforces how the Amazon already is and will continue to be one of the places most affected by extreme temperatures. Nowadays, we talk a lot about Russia and Ukraine, but people are also fighting here for the rainforest and this is often overlooked. When are we going to end this war and take out the 20,000 miners in the Yanomami territory? During the pandemic, there was an increase in fires in indigenous lands, and we ended last year with the highest deforestation rates in 15 years. We continue to defend our territories and the life on our planet because we know how important the Amazon is to the climate issue. I had the opportunity to open COP 26, but I was always very reflective: I am proud to be the first indigenous woman to speak in that event, mainly because my relatives told me that they felt represented. But is it not too late? When are we going to just talk about it and finally integrate the decision-making process that has been deciding our lives? 
 In your opinion, how do other countries impact and can contribute to protecting the standing forest? 
After COP 26 I had the opportunity to go to Sweden, for example, to talk with representatives from other countries and discuss what they intend to do about the Amazon. The product that Sweden imports most is ore, and mining has a direct effect on indigenous lands. We are following a European Union bill on the production chain issue. In just one part of Uru-eu-wau-wau's territory, which we call Burareiro, there are 6,000 heads of cattle. We did some research and we are going to report it to the Criminal Court because we found out that the illegal meat is being sent to supermarket group Casino in France, and the leather is being sent to the United States for car seat manufacturing. The responsibility of other countries regarding what is happening in the Amazon is clear. Will they continue to eat the cursed flesh of the Uru-I? Will they continue to use products derived from the indigenous genocide, as it happened with the Yanomami? They have the power to change many things, to put pressure on Brazil, and reject these products that originate from destruction and indigenous blood. 
 What is life like for those on the front lines of the war to protect the Amazon and what signs of climate emergency do you already see in the territory? 
 We need to fight to protect our territories, mainly because we live today in a context of threat—including from the Legislative through the "Marco Temporal" and the bill on land grabbing. Last year, for example, the governor of the State [of Rondônia] proposed a law to close two conservation units, and we had to go to the court. We are fighting for our territory, which, modesty aside, we do with great mastery. Before COP 26, I went to my village to ask my parents for advice because I was going to represent my people, and they taught me that, to do so, the first thing we should do is to listen to the others. I went there to talk about how we are being affected by climate change, which we are now able to link to our struggle. The climate issue did not include a social aspect before. Only now people understand that when we talk about climate change, we are also talking about people. They told me that we no longer find some sacred, medicinal plants in our territory, which affects us both physically and spiritually. In 2020, my people were expecting a great coffee crop. However, it was much smaller than we expected. It affected our health, our food security, and socio-economically. With the increase in deforestation and fires, the animals run away and we cannot eat them. With mining and hydroelectric dams, the fish disappear. We plant many things but they are killing our food, starving us, and poisoning our water. This is a consequence of climate change as well. I say we are affected twice: by the causes and by the consequences. The cause we know: deforestation, burning and mining are some of the main issues in climate change. And the consequence is all the resulting fragility. Vulnerable populations are those who suffer the most from the consequences of climate change despite being the least responsible for pollution. We are seeing this not only in indigenous lands but also in the cities, where the people living in poverty are the ones who suffer the most. 
For you, what is the importance of these elections for the Amazon and for the Brazilians who live there? 
We are in this situation mostly thanks to our Congress and our House. We are talking about the importance not only of voting for president but also of thinking of climate and environmental issues as a non-partisan matter, which should be in all candidate's government plans. We are talking about our lives, so we must go further because we are aware of the consequences of an anti-indigenous and anti-environment government. What was promised was actually fulfilled: not only a single indigenous land was demarcated during the current government. The environmental legislation was weakened. For the second time an employee of Sedam [Environmental Development State Department] was shot by invaders because our environmental agencies were weakened, and our government wants to arm people and disarm environmental inspectors. There is a bill that wants to allow hunting in a conservation unit and arm people to do so, which will increase violence in the countryside. All of this is related to our policies as well, which accept and encourage it. We are at a crossroads not only for Brazil but for the whole world, especially regarding the climate agenda because we have to start thinking about issues such as how to adapt to the extreme climate events. There are many things we can no longer reverse—we can only try to mitigate and protect the people who will suffer the most from these events. Therefore, we need governments that also think about this, and do not reduce the participation of civil society. We can clearly see the councils weakening: we participated in the Council for the Environment. Before we were able to at least have a dialogue, but such a thing does not exist anymore. Regardless of who takes over the government, we will have a long way to go. At COP, we promised to put an end to deforestation. However, when we look at what's been done here, we see a contrary policy is adopted, including attacks on indigenous lands. We must understand that to save the Amazon, overcome the crisis and achieve climate justice, we must demarcate indigenous lands. Just like anywhere else, we will have different solutions when different people are making the decisions. We can change that with the election of indigenous women, black people, and women. Candidates who care about the environmental agenda and people. We can see the difference that Joênia [Wapichana] is making, but we need much more: it is our system and we have to be there as well. Indigenous people mainly—who can speak for the Amazon better than we do? 
 What power do you think young people have in the decision-making process related to the Amazon? What role and differential can they have in this context? 
 I think the role of the youth is one of hope. We are often questioned about our young age. Culturally, I have great respect for those who came before me. I respect and admire their struggle, and young people are here to continue their work. My people teach a lot about the importance of the youth taking the role of elders. We made the first "Book of Codes and Norms" written by an indigenous community. It is a 50-year plan. Which government makes a 50-year plan these days? Every four years, everything that the previous government did is abandoned, without the slightest consideration for the people. 
I believe it will not be easy to build a better world, but I fight for a world where women can walk freely, where our territories are not invaded, for a world with gender equality, anti-capitalism, anti-racism, a world that is not so unequal. Usually, young people are not interested in politics but they are very interested in environmental issues, and that means talking about politics as well. I think we are understanding it and showing we are not going to let the crisis get worse. I am the coordinator of the Rondônia Indigenous Youth Movement, which counts on the participation of 12 communities of the State, and I see how much effort these young people make to be recognized in this struggle. Most of its members are already part of their territories' associations and are part of the movement to talk about what we want, what is important for the youth, and to think about this intersectional issue when we talk about feminism, for example. We are trying to reach different spaces, showing that we can contribute to this fight and that we want to see a better world, too. 
 In your opinion, what does not work in politics anymore and what could we change in the future? Do you think young people are managing to change this scenario? 
 I only believe in things that are collectively built, so I think changes go through real popular participation. I do think we are, as young people, changing that and reaching these spaces as well. I am a volunteer at Engajamundo and we are, for example, building this movement together at Fórum Floresta. We also participate in councils. We are increasingly seeking popular participation and pushing for improvements. I think the path to solutions goes through several things, including electing indigenous people. I am part of Parlaíndio, which has several indigenous leaders. In the last assembly, we proposed the creation of a national platform with several indigenous leaders, such as my father [Almir Narayamoga Surui], Daniel Munduruku, O-é Paiakan, and Marcos Apurinã. It is important to have these people representing us as well. An example of how we are empowering youth is the fact that most of our election-related projects in place are about encouraging them to issue their voter registration cards because we trust and bet on our youth. They have a different, critical mind, and we really have to bet on it. We see these issues as our future, but they already are our present. 
 Do you have any experience with indigenous people's collective management to share that we could incorporate? 
 On governance and participation, I can mention the "Book of Codes and Norms" of the Paiter Suruí people. We took our principles of living in harmony with nature, of preservation, and what we want for our future, and wrote it with the community and the governance of the people, which has a parliament as well. The current Labiway Esaga [term of the Paiter Suruí people to refer to its leader] is my father. We want to make this parliament work to increase popular participation and to be aware of what the community wants. During the past year, with Brazilian democracy under attack, the Paiter Suruí people decided to hold our first election. Everyone aged 15 or older could vote to choose their Labiway Esaga. When we needed to make a decision on a project in the Uru-Eu, we called the whole community and the representatives of each village to decide what was best for the people. The best part is that we do not even need to say some things so that it works well: everyone has the community's best interests at heart. Another example was in the Youth Movement: when our new coordination was elected, we got 50 men and 50 women without establishing prerequisites beforehand. The women in the youth movement have very important leadership roles. I think the greatest lesson the indigenous peoples can pass on is that all lives—humans, animals, forests—are all equally important. 
 What message would you like to send to the next rulers of Brazil? 
 As an Amazonian indigenous woman, I call on the Brazilian government and any other government around the world to appreciate the importance of the indigenous peoples' wisdom and of the standing rainforest for life on the planet. I hope that the environmental agenda is seen from a non-partisan perspective. I would like other countries to understand that what they do affects Brazil and that we know how to protect our most valuable things, that is, our indigenous lands and the Amazon rainforest. The Amazon is the largest tropical forest in the world, with the greatest biodiversity and culturally rich people. A topic worth mentioning is about the isolated indigenous peoples. They are under a lot of pressure and unable to protect themselves, and do not know how much their lands are under threat and attack. We need to fight for these peoples as well. Everyone must understand that a better policy is one that respects the people and the communities that live in the rainforest, that demands land demarcation and that respects women. To sum up, a better world for all. Every voter must understand how important their votes are in this process, and the next representatives must be aware that we are going to put pressure on them to make it happen because we are the ones who put them there to represent us. 
 About Amazoniar 
Amazoniar is an initiative of IPAM (Amazon Environmental Research Institute) to promote a global dialogue about the Amazon and about its importance for Brazil's relations with the world. In its fourth cycle, Amazoniar will promote a series of interviews with young Brazilians and foreigners who inspire the mobilization for climate justice, especially in the Amazon. In June, these interviews will be weekly published in full on the IPAM website. Sign up for the newsletter to get the next interviews! 
*Journalist and Communications Consultant at IPAM